The Cornwall Life Food & Drink Awards, which celebrate the county's food and drink champions, were presented at a celebratory event at Carbis Bay Hotel on 1st November and we are pleased to reveal that our Executive Chef, Michael Smith, was amongst the winners!
After fifteen years at the helm here at the beach, Michael was named 'Food & Drink Hero' of 2018. This award is reserved for an individual who "goes the extra mile to promote Cornwall to a wider audience and is passionate about local produce throughout." The winner of this prestigious award must also be someone who truly champions the vibrant local food scene and who has helped make a positive difference to their team, community and the food and drink industry as a whole.
Carol Burns, Editor of Cornwall Food & Drink presented the award, and said in her speech:
"Cornwall is not short of incredible food and drink and chefs that know how to use them. Michael Smith perfectly reflects Cornwall's attitude to food – creative cooking and original dishes, incorporating the best of our local seasonal produce, and all in a very relaxed inclusive atmosphere that makes the most of the beautiful views on offer in one of Cornwall's favourite harbours."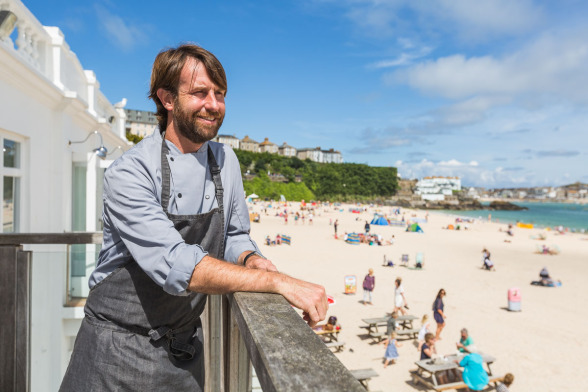 Carol noted several key factors in naming Michael as this years' winner. For example, he was one of the first chefs in Cornwall to feature foraged ingredients in his dishes on a regular basis, and has invested a great deal of time and effort in establishing a kitchen garden opposite the restaurant. By training new chefs in foraging and caring for the garden, he actively spreads this knowledge and passion for the wild and home-grown ingredients which flourish in our coastal environment.
Michael has also been proactive in promoting sustainable seafood and supporting charitable causes such as The Fisherman's Mission. He is responsible for dreaming up Porthminster Beach Café – The Cookbook, a collection of signature recipes, and has been a driving force behind the St Ives Food & Drink Festival, which is held on the beach outside the restaurant each year.
It has been such a memorable year here at Porthminster, and this award has been the icing on the cake! Thanks to all those who have played a part in our success – including the whole team and all our fantastic customers. We look forward to celebrating with you soon!